Koelsysteem-waterslang
BMW 328xi E91
Touring Verenigde Staten
N52N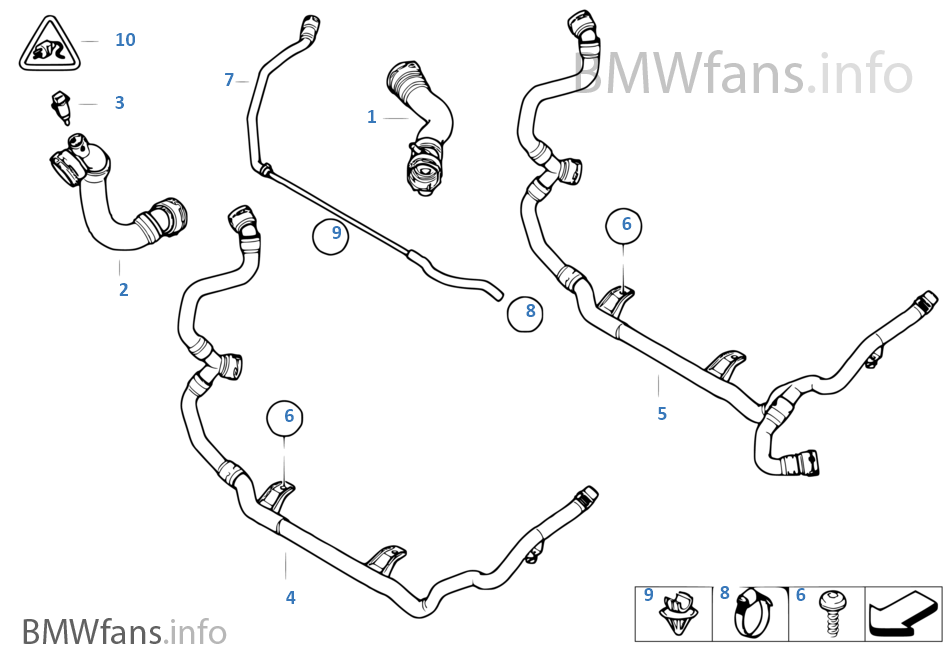 aanvullen
Onderdeelbenamingen, die op een Koppelstreep ( — ) eindigen, worden Met het naamgevingscommentaar (zie Onderdeelinformatie) aangevuld.
Voor voertuigen met
Automatische transmissie (
S205A
)
= geen
#
beschrijving
artikelnummer
aanvullen
datum

kwantiteit

gewicht
prijs

EUR

Toevoerslang motor-radiateur boven

1

1
Radiateurslang onder-thermostaat

2

1
Leiding verwarmingsretour-thermostaat-

4

+

info

Bestaande uit kunststofbuis zwart en

Rubber slang

1
Schroef zelftappend

6

3
Ontluchtingsleiding radiateur boven-

7

1
Slangklem

8

1
Clip

9

1
The contents of the BMW parts & accessories catalog provided for acquaintance purposes only.
Part numbers, descriptions, prices and applicability information have been obtained from public sources on the Internet. We are not responsible for any data inconsistency and possible inconvenience caused. Contact your local parts supplier to get precise information about parts.